Data scraping or web scraping is a process where a person uses software to gather data from a website or a service quickly. The reason why this has become popular over the past several years is that instead of someone copying and pasting the data or records by hand, a service does that automatically.
The only involvement from the user is setting up the rules. In layman's terms: a person would take days to get thousands of records of data, while the software would take minutes, maybe hours.
As the need for web scrapers grew in this past decade, so did the number of web scrapers on the internet. Each one is unique in its features, and each one has its pros and cons.
Our Expert Rating and Test Results
Scraping Performance -

9.2/10

Anonymity -

8.8/10

Locations -

8.6/10

Success Rate -

9.5/10
---
About import
"Sharing data makes the world a better place" is a principle that drove a team of 3 people to create input.io. Founded in 2012, input.io initially started as a simple data crawler mostly for personal use, slowly growing and evolving into an enterprise-level data scraping solution for the business sector.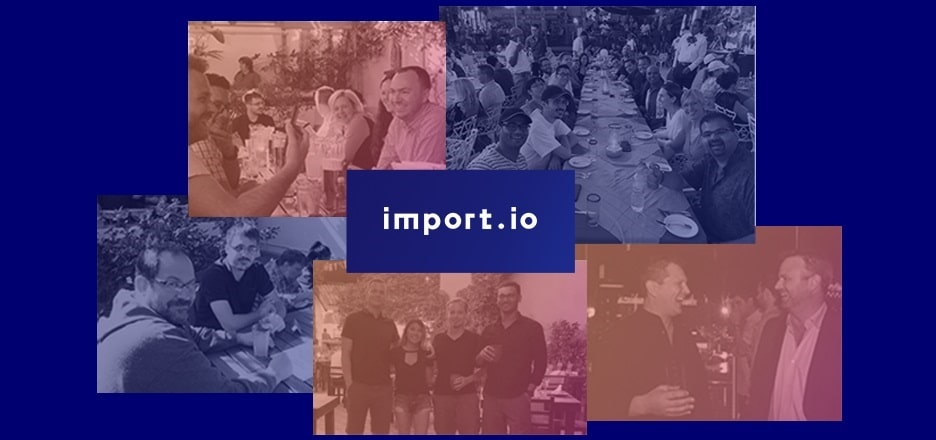 It sounds good in theory, but how good import.io is? In today's review, we will go over the features, usability, and pricing so that you can decide if it is the right solution for you.
---
Features

Import.io has come a long way from the simple data scraper that is was back in 2012. Today's features and solutions cover a much wider range. Their solution list consists of:
Travel and Hospitality
Retail and Manufacturing
Equity and Financial Research
Machine Learning Model Training
Risk Management
Product, Marketing and Sales
Other industries
If you take a closer look at the list above, you will see that import.io can scrape practically anything from anywhere.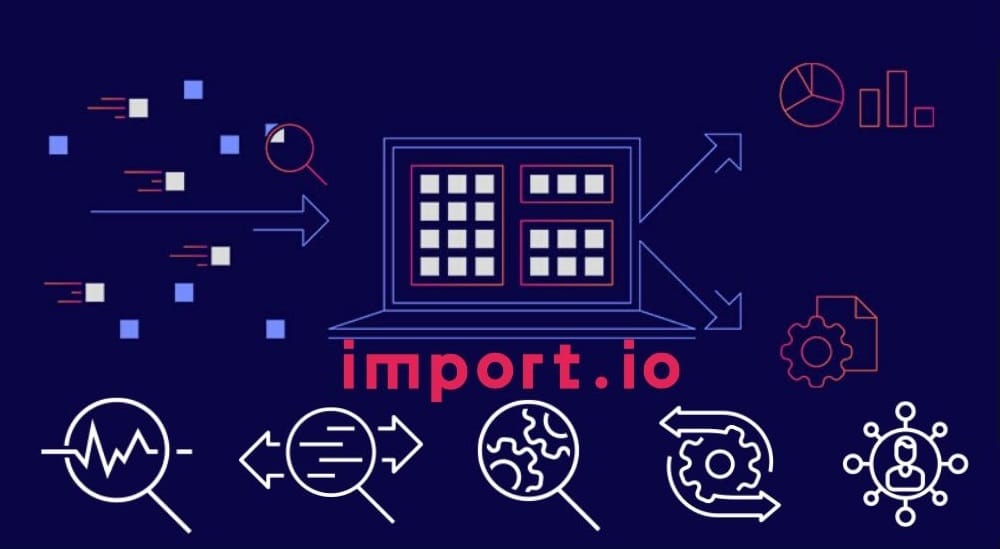 ---
Pricing
Unlike most of import.io's competitors where you have multiple pricing plans each one coming with a separate set of features or lack thereof, depending on the price, here you have only two options: to pay or not to pay – that is the question.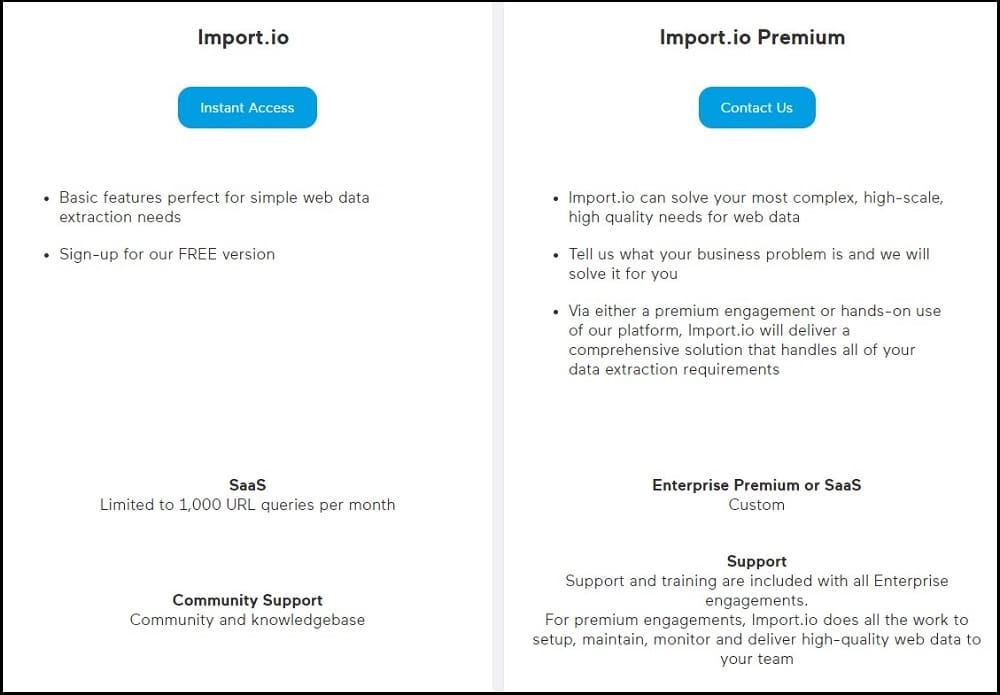 The free plan is often considered like the trial, where you get limitations on everything, and you would need to get your hand dirty and do everything yourself. This doesn't necessarily mean bad, because the free plan is perfect for big companies that are looking to give import.io a test drive or for individuals or smaller companies that won't exceed the limits of the plan.
You get practically no help from their team, and if you need support and need some help, you will need to refer to the community or their knowledgebase.
The paid plan or import.io premium is a whole different story. For starter, the plan doesn't have a price – at least not initially. The entire idea behind this is to have a flexible pricing plan so that you don't end up paying more than what you use.
Apart from paying for the service provided by import.io, you also pay for a few other things. First of all, a sales member will be in touch with you to form the price for your package. If you decide to go with that plan, the details are handed over to another team member in charge of figuring out what you need and how it can be achieved. Basically, you tell them what you want, you pay for it, and they run the entire show, you don't need to do anything.
Alternatively, if you do want to get your hands dirty, the paid plan can offer you the flexibility to do everything by yourself. Import.io's team will be able to provide you with guidance, but at the end of the day, it is recommended to let them do all the work.
---
How to use import.io
For the purpose of this review, we'll demonstrate how easy or difficult it is to use import.io. Since the premium plan comes will all the bells and whistles, including your very own tutor, we'll guide you through the use of their service with a free account.
The signing up process is pretty straightforward, and it only requires a hand-full of information.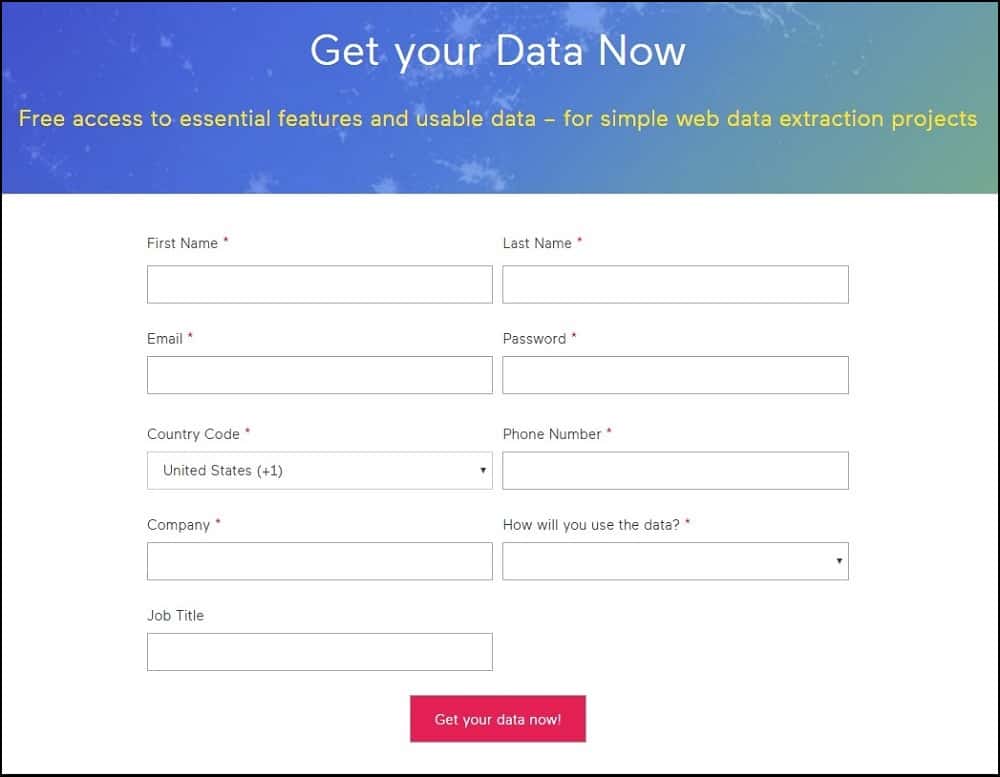 If you are an individual and don't have a company, you can get away with entering your name in the company field.
One the signup process is complete, you will receive an email confirmation, after which you will be good to go to use import.io.
Right off the bat, their system tries to help out and automate the process and slowly guide you through the steps.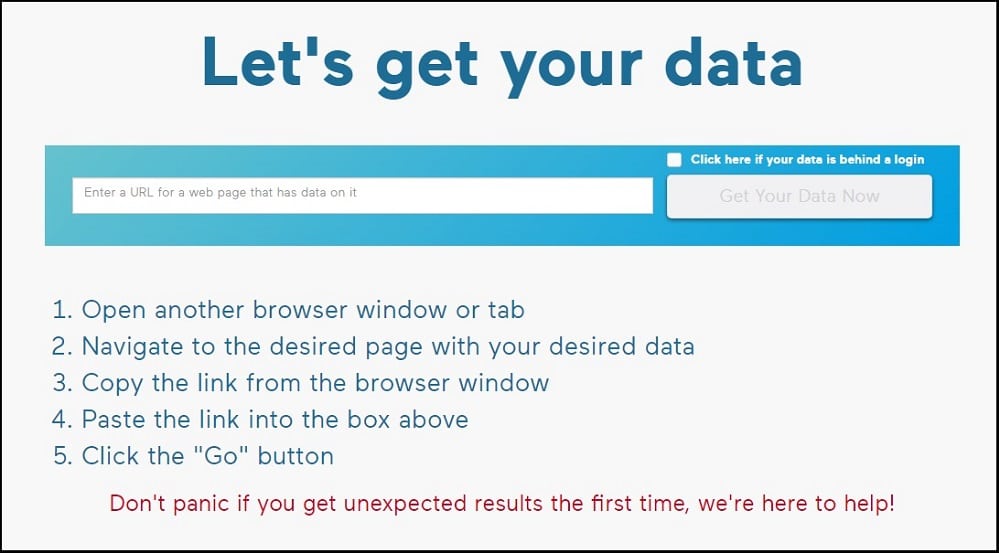 For this guide, we are using a popular job posting website due to how the results are structured on their website. We searched for jobs in New York and pasted in the results. Since searching for a job on Indeed doesn't need an account, we didn't need to tick the box labeled "Click here if your data is behind a login." If that is the case for you, then once you tick it, you will get a few more fields that you need to fill in.

Import.io's automatic extractor will first try to guess which data you need so that you don't need to do anything. In most cases, with websites that the data is clearly laid out, the extractor will do a great job. In our example, it grabbed the data that we needed and some that we didn't need. Also, the system merged the company info and location into one field – making things slightly more convenient.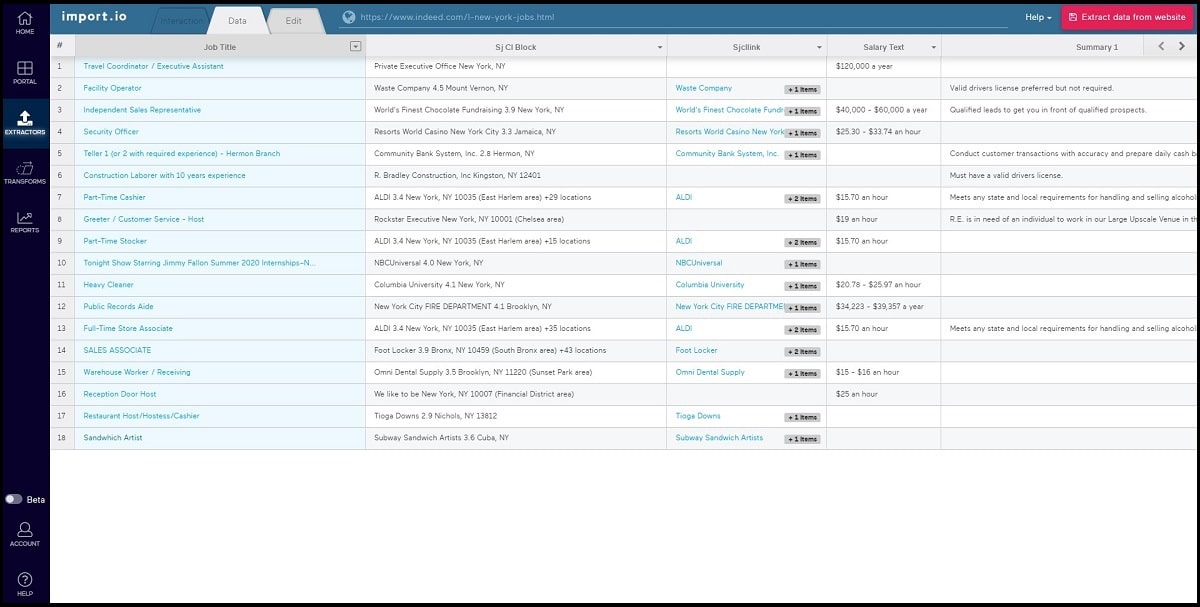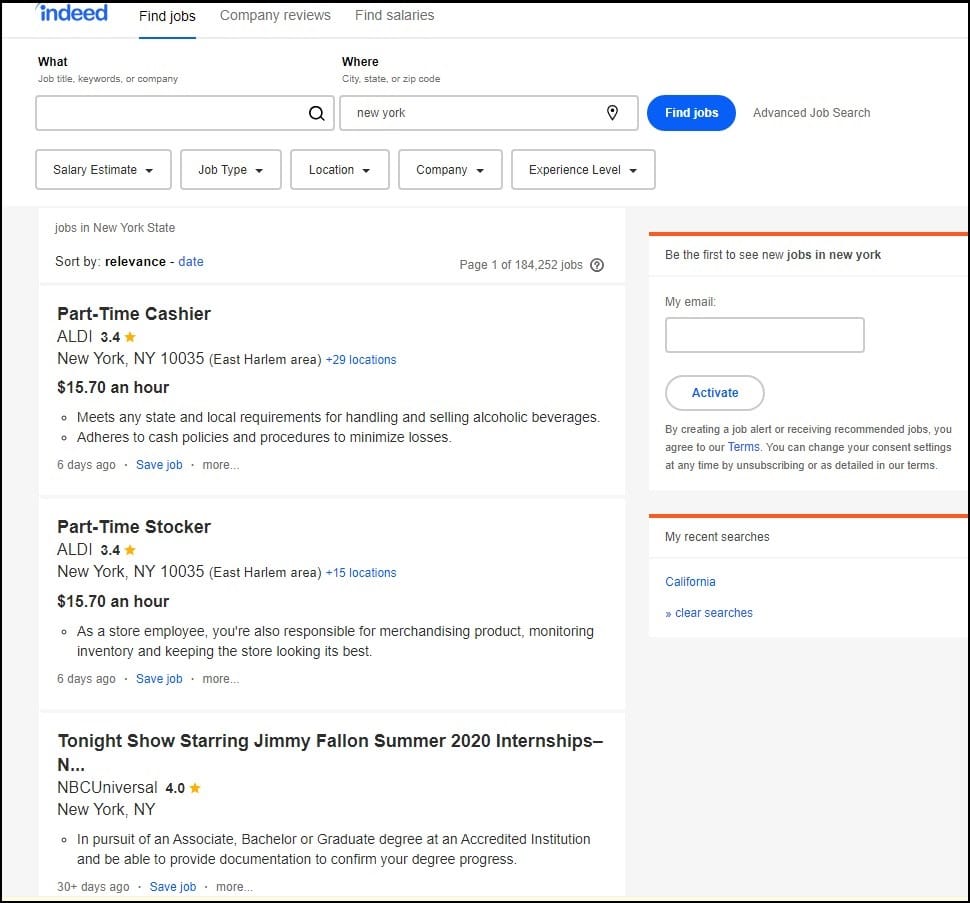 If the extracted data doesn't work for you or you get more than what you ask for, you still have the capability to fine-tune or completely customize the extractor so that you get the data that you actually need.  Clicking on the "Edit" tab on the top takes you to the section where you can customize the extractor.
Here you have two options: start from scratch or use what you have and make changes to it. Whichever path you take, the procedure is the same. You create/edit a column from the top and use your mouse to select the data that you want to be extracted.
Since this is a free version of import.io, it means that there will be some manual labor involved in pulling data of websites. For example, this search on Indeed provided thousands of results, which means there will be multiple pages to get the data from. In this case, you will need to enter each page separately manually. It is a tedious task, but it beats copying and pasting everything by hand.
---
Ease of use
If import.io easy to use? Yes, it is. As we demonstrated in the previous section, most of the process is automated, and in a lot of cases, it will get the job done for most people. Even if you find yourself in a situation where the automatically extracted data isn't what you're looking for, you can still do it manually. Doing that doesn't need any specific set of skills; it is just point and click.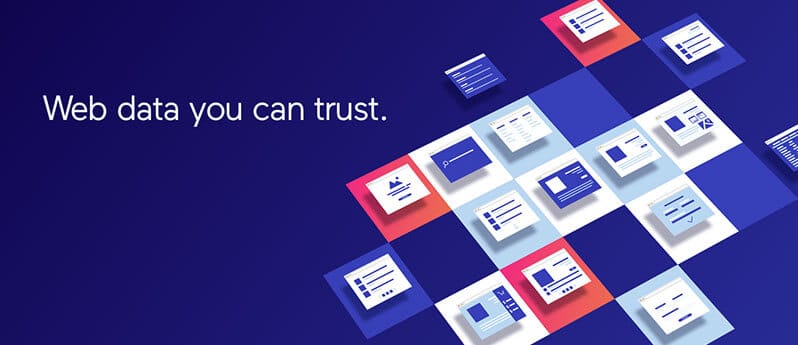 Software-wise the main takeaway is the lack of it. Unlike other competitors on the market, import.io doesn't offer software downloads; instead, their entire service is cloud-based. The main advantage of using a system like that is that you can use it on any computer connected to the internet.
---
Customer Support
When using any kind of service, it is important to be able to rely on experts to help you out. In the case of import.io, if you are using a free account, you are limited to only their community support or knowledgebase. If you opt-in for the premium package, then you'll have a full team on standby to help you out.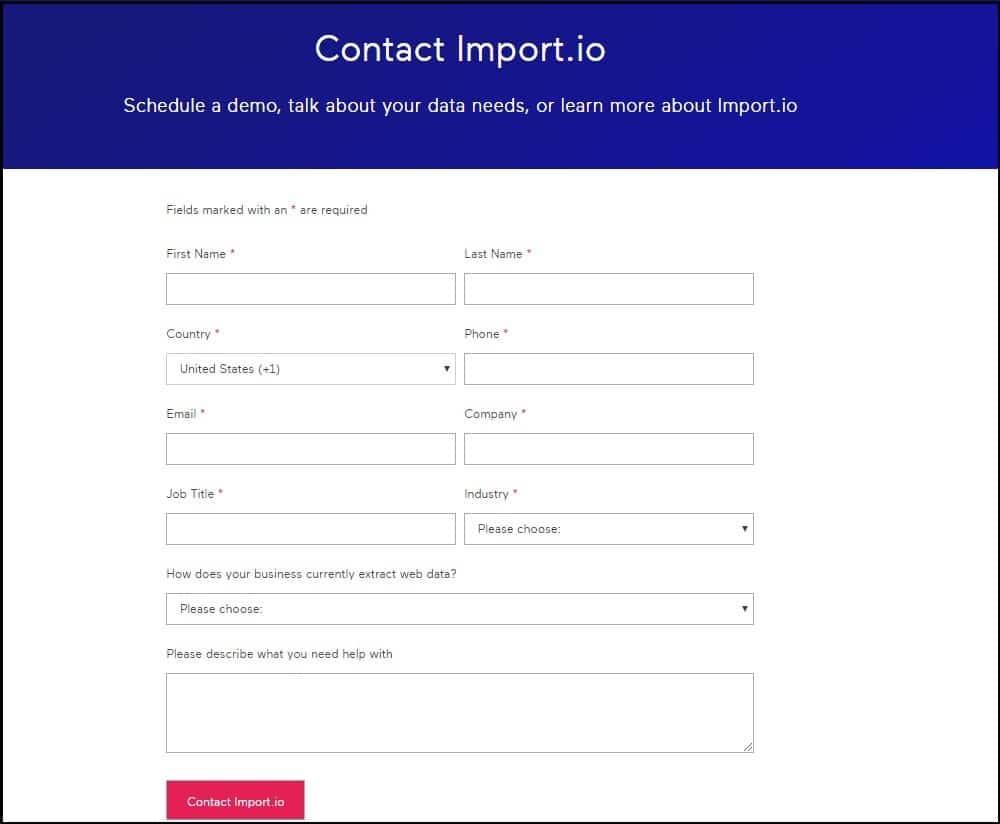 During our research on the service, we noticed a few people on the internet that didn't have a particularly good experience with their support or sales departments. Among those cases were people that didn't have their problem solved by the support team and several users that had problems canceling their subscriptions. We had no problems with either their sales and support department, and for people looking into the premium package, we would advise you to read the terms and conditions before making any purchases.
---
Our verdict – Is Import.io recommended?
So, is import.io worth it? Yes, it does.
People, us included that have used the service, will tell you that you will hardly find anything better. That is true to some extent. Even though import.io has the ability to scrape anything from anywhere, some competitor services are a bit more flexible.
Looking at the prices, this is definitely not the cheapest option; actually, it is among the more expensive ones, but the features offered by import.io justify the price. The support is sublime, and if you are not using the free package, you get a full team that will assist you, as well as guide you to how to use their service.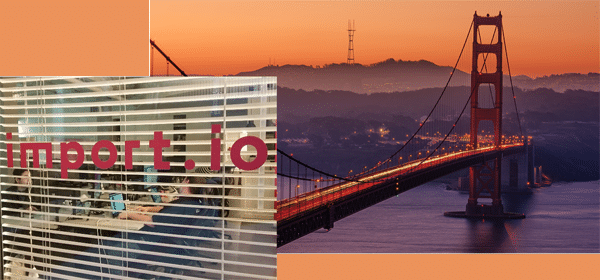 Overall, import.io is one of the few scraping services that we can recommend for anyone. The intuitive GUI and excellent support make it a perfect choice if you or your company can afford it.